Sue Vaealiki •
Learning and Development Consultant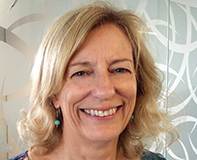 Sue leads the strategy for the learning and development team, who utilise educational best practice strategies and technology to deliver tailored risk advice education to licence customers. Using the latest in assistive technology, the team have built a comprehensive library of risk advice resources that are accessible at all times to advisers using the Triplejump platform. 
Sue has an in-depth understanding of learning programme development, and wide experience in building trainer delivery tools and adaptation of educational programmes to utilise technology solutions. Her career has included:
Former Director of Academic Programmes for NZ's largest Early Childhood teacher tertiary enterprise, Te Tari Puna Ora o Aotearoa (NZCA).
Extensive management experience in the teaching and tertiary sectors.
Many years of business experience in executive leadership teams and working at a strategic level in organisations with stakeholders and clients.
Lead and managed projects for the successful development and accreditation of Graduate and post Graduate qualifications in the teaching sector.
Currently Sue is a quality assurance monitor for the New Zealand Qualification Authority.